When most people get a puppy, they hope that the small, cute, furry bundle of joy will always be a puppy. But as time goes on, nature does what it does, and the puppy grows up into an adult dog. That's just how things are, and not much can be done about it.
For some dog lovers, the dog's life is over when it grows up. Some dog owners got puppies that just wouldn't stop growing, which could be good or bad. So, here is a list of the biggest, coolest, and most interesting dogs that have more dog vibe than the average dog.
Some of these pets don't seem to realize how big they are, which is kind of funny.
It's important to know that a big dog is not the same as an overweight dog. Also, if you want your dog to live a long, healthy life, you should make sure it stays within its healthy weight range.
1. Starting off with the cutest of all;
Image credit: Rachel_Boli
2. Bleps all the way.
Image credit : selbythesamoyed
3. It once was a little baby,
Image credit: Via doods.gus.and.ollie
4. I'd both be scared and happy to have run into this doggo at the vet.
Image credit: Chimtori
5. This doggo is bigger than the hooman…
Image credit: ENZOxDV1
#6 He May Look Like A Bear But He Identifies As A Lap Dog
Image credit : fadedcommunity
#7 Bonner, Newfoundland, Can Often Be Spotted In Our Rehabiliation Unit Encouraging Patients
Image credit: Children's Hospital Los Angeles
#8 Here's Another One Of Our Rescues, Yuki
Image credit : Shy Wolf Sanctuary
#9 Once A Lap Dog, Always A Lap Dog
Image credit : vladgrinch
#10 . I confused this doggo with a bear…
Image credit: ralphie_the_newf_and_the_boss
#11 Nope, that's definitely a stuffed toy.
Image credit: zammypup
#12 ONE YEAR OLD'S GETS THIS BIG?!
Image credit : bmoc9891
#13. This is the fluffiest doggo of all time.
Image credit : reddit.com
#14. Why don't we get such neighbors?!
Image credit: txflyguy83
#15 Is that an extra large dog or an extra small baby?!
#16 This doggo just grew up right in front of this hoomans eyes and he is shocked…
Image credit:ScottPuppy
#17 Sometimes you have to take extreme measures to meet your best friends.
Image credit: Beetlejuicex3babe
#18. This has got to be photoshopped right?!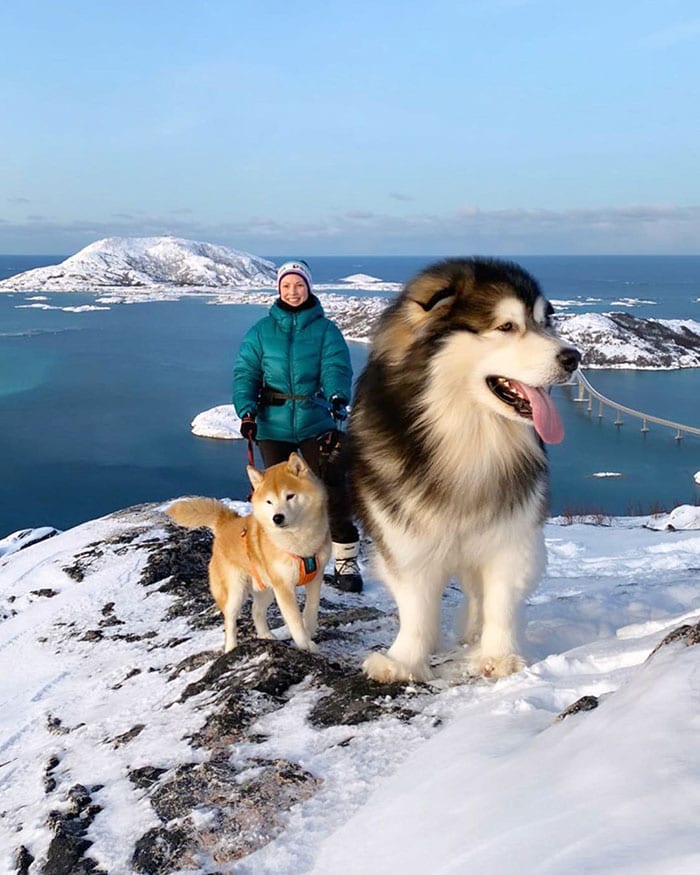 Image credit:pernilleberglund
#19 Big Dogs Can Be Scared At The Vet Too
Image credit : PussyandBagels
#20  Big House Cow Meets Little House Cow
Image credit:beautifulntrealistic