Spain remained neutral during World War I. Kurt Hielscher was on a study trip to Spain when the war broke out. He stayed in Spain throughout the war and decided to make the most of it by traveling around and taking a lot of photos, which eventually turned into his book, which contained 304 photographs and was published in 1922. This book, as well as his lectures and exhibitions, made him famous, and he received invitations to write similar books in other European countries. During World War II, his negatives were destroyed as a result of allied bombings of Leipzig. His work was forgotten after the war.
As an Eastern European Studies student, I came across an old photo book in an Amsterdam secondhand bookstore Kurt Hielscher, a German photographer, became the source (1881–1948). There were 192 beautiful photos of Yugoslavia in 1926 in copper deep print, which appear amazing, almost like 3D shining gold. Because it was quite expensive, I decided to do something with it. What? That was self-evident: try rephotographing the photos in it. One thing led to another, and now I have all of Kurt Hielscher's photobooks from Spain, Germany, and Italy, as well as the ambition to make them all. The project came to a halt due to COVID-19. Last March, a trip to Bosnia and Herzegovina had to be canceled, but I can't wait to get back on track. Here is my choice!
Warm greetings, Casper Molenaar.
Kurt Hielscher was an interbellum period photographer who has managed to capture some of the most interesting objects in Europe before WWII
More info: Facebook | Facebook
#1
City Gate, Trogir, Croatia, 1926 vs. The 24th Of April 2019
#2
Forum Romanum, Rome, Italy, 1925 vs. 2016
#3
Bled, Slovenia, 1926 vs. 2018
#4
Ponte Dei Sospiri, The Bridge Of Sighs In Venice, Italy, 1925 vs. 2018
#5
Perast, Montenegro, 1926 vs. 2018
#6
Limburg An Der Lahn, Germany, 1924 vs. 2019
#7
Puente Nuevo, Ronda, Andalucía, Spain, 1914-'16 vs. 2019
#8
Quedlinburg, Germany, 1924 vs. 2020
#9
Dubrovnik And The Island Of Lokrum, 1926 vs. 2019
#10
Ljubljana Castle, Slovenia, 1926 vs. 2018
#11
Charles Bridge, Prague, Czech Republic, (Published In) 1941 vs. 2020
#12
The Castle Of Alcalá De Guadaíra, Spain, 1914-'19 vs. 2019
#13
Kamerlengo Castle, Trogir, Croatia, 1926 vs. 2019
#14
Litoměřice, Czech Republic, (Photo Published In) 1941 vs. 2020
#15
San Sebastian, Spain, 1914-'19 vs. 2019
#16
Grofčanski Most, Kratovo, Macedonia, 1926 vs. 2018
#17
Potes, Spain, 1914-'19 vs. 2018
#18
Šibenik, Croatia, 1926 vs. 2019
#19
Sinan Pasha Mosque, Prizren, Kosovo, 1926 vs. 2018
# 20
Venice, Italy, 1925 vs 2018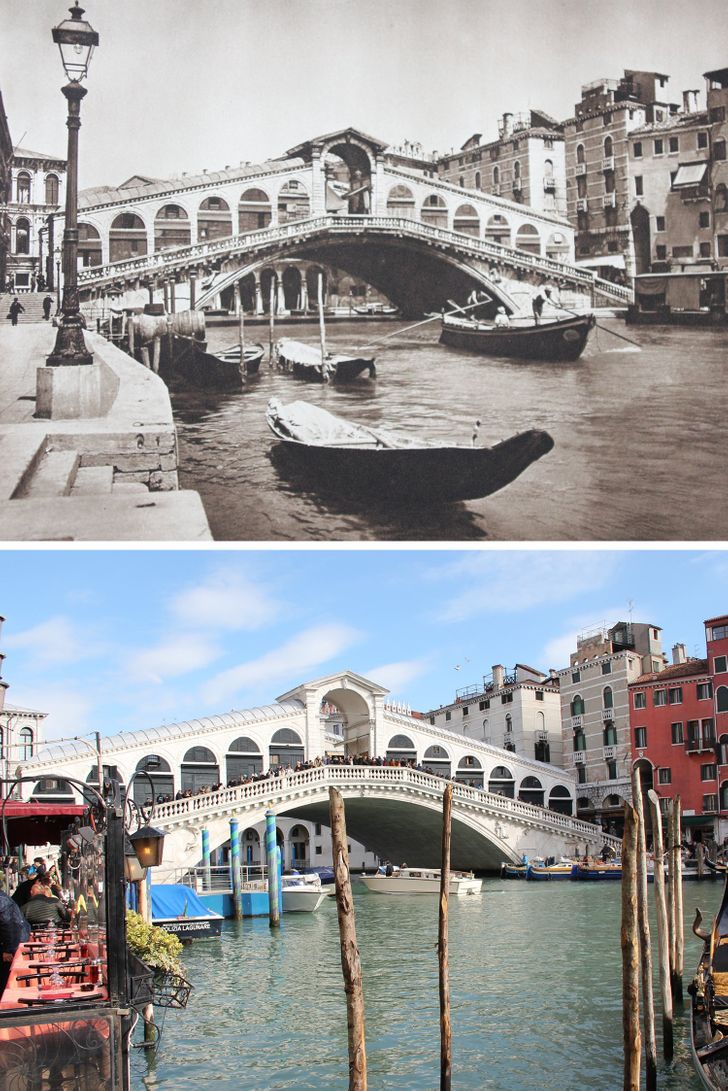 Image credits : Kurt Hielscher, Casper Molenaar / Facebook